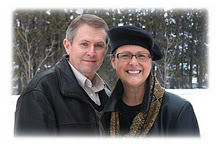 Derrald and Barbara Hilderbrand accepted the call to pastor Lighthouse Pentecostal Church of Wausau in June of 2005.
Derrald, a graduate of Apostolic Bible Institute (class of 1972) in St. Paul, Minnesota, is originally from Chicago. Barbara is from Eau Claire, Wisconsin. They were married in 1972 and have two daughters and four grandchildren.
Their ministry has included establishing a new church in Tinley Park, Illinois (1977) which they pastored for 12 years. They also served as pastor in Alaska (Anchorage and Seward) for a total of 8 years. From 1999 through 2005 they served in the foreign mission program of the United Pentecostal Church, International during which time they lived in Central Europe (Prague, Czech Republic), the Middle East (Amman, Jordan), and Western Europe (Dordrecht, Netherlands). They also traveled for 22 months throughout the United States and Canada on behalf of the Foreign Missions program of the UPCI.
Their life purpose is to help others be all they can be for Jesus Christ.
You can view Pastor Derrald's blog here.